"You have to dream before your dreams can come true."
Dreams. Such an influential part of life. In the case of my eminent person, dreams played a larger-than-large role in influencing and providing motivation to achieve such success. Whether they were crushed or made, these dreams fuelled my notable to further heights. Not once did they think about giving up, even after major downfalls.
This year, for my second and last eminent project, I chose to do A. P. J Abdul Kalam as my chosen notable. I picked Kalam because not only did he operate in an especially interesting field of science, he has shown to obtain immense grit and resilience, and I admire his exceptional personality. I can connect with Abdul Kalam in a number of ways.
We are both of Indian descent
We both are interested in the sciences
We both believe dreams play a major role in life
We both are/were in the Middle class
We both have an interest in warfare
Abdul's most depressing moment was when he was attempting to become an Air Force pilot. This was a dream of Kalam's from childhood. Unfortunately for him, Kalam placed ninth out of the potential nominees, but only the top eight were selected. After having a major dream crushed in such a way, Kalam kept going, and this led to the man he is today. Kalam played a monumental role in the development of India's nuclear weapons and missile programs. Using that talented mindset of his, Kalam led numerous missile projects, and on the path was faced with major impediments, such as aborted projects, or failed launches. Due to this, Kalam and his group were faced with immense criticism and scorn. Despite all of this Abdul Kalam persevered through and led his workers to eventual success, forever changing India's missile technology and their nuclear power. This is what I believe makes Kalam so eminent- the fact that he can withstand such pressuring situations without panicking.
So we ca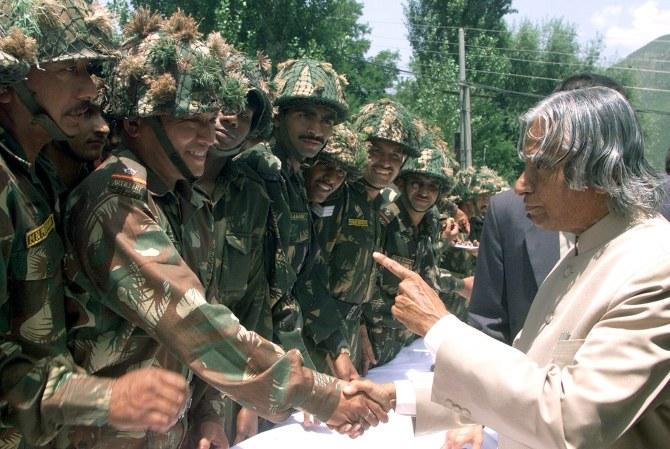 n probably tell that perseverance and resilience are among Kalam's top strengths right? But that's not all. Another strength in his arsenal consists of being caring and kind. Kalam can be strict when need be, but he is also a kind man. He is never legitimately harsh towards anyone, which really helps his ability to lead by forming positive relationships with his workers. He aspires to improve his nation, and all of his accomplishments led him to become president of India. A potential weakness for the Missile Man is that he is a shy individual. Although this in itself isn't considered a 'weakness', being shy led to Kalam finding it a little difficult to build relationships in short amounts of time with others. Who knows, but this might've led to a few missed opportunities.
A prime example of when Abdul Kalam breaks the mold and perseveres in the face of obstacles is when he ranks ninth out of the Air Force pilots. Ever since Abdul was a child, he aspired to become a pilot part of the Indian Air Force. When the moment of truth was finally here, Kalam's hopes and dreams get crushed in such a painful way. Knowing that you are just one spot off must be so painful. Yet, Kalam continued in his goals to become such a wonderful Rocket Scientist, and India's 'Missile Man'. Another way Abdul breaks the mold is when his missile launches fail, and he faces the criticism of the public. Some go so far as to call Kalam a failure. I'm sure they regretted that a while later when Kalam stayed positive and used the mission reports to analyze what went wrong, and built off stronger. When they saw how successful the projects went, and how much Kalam advanced India's missile technology.
The Indian Air Force significantly influenced Abdul Kalam. He loved the idea of both being a pilot and helping India out in times of war by fighting for them, protecting his nation. Throughout his youth, Abdul would always look up to the military, admiring what they did for the country. This is what influenced and drove Kalam to try and become a military pilot. Abdul Kalam's teachers and co-workers played a substantial role in shaping Kalam into the man that so many look up to. It may not seem like it, however, these people shared a close connection with Kalam, enabling them to converse together and provide one another with advice. This is how they were able to push Abdul to further heights and provide the moral support required to push through difficult situations. They may not possess the same talented mind-set as Abdul, but they still provided the influence and support necessary to move forward. Going into this year's eminent project, I am setting a goal for myself to be able to connect to Abdul Kalam on a more personal level. If I am ever faced with a situation, no matter how difficult, I want to think of Abdul Kalam, the obstacles he has conquered without letting them get to him. I want to be able to use that to cope with my stress or to overcome challenges I am faced with.
Time to have a blast, and finish off my last eminent with a bang!